The IFAC'2017 features for high sponsorship impact and presence of exhibitors at the heart of the congress are described below. This page is also accessible in PDF as well as in PDF leaflet version.
Venue
The Congress will be held at Compans Caffarelli site in Toulouse city center. The Pierre Baudis congress center will serve as the central venue with additional spaces at the Palais des Sports multi-purpose arena (used for opening and closing ceremonies, and plenary lectures), and Mercure Atria and Novotel hotels.

Exhibition Spaces
The main exhibition space will be located in the Concorde room at level -1 of the congress center. The Concorde room will also host the main coffee break space and will serve as the central meeting place for the congress attendees. Another exhibition space may be added in Caravelle room at level 0 where interactive sessions will take place.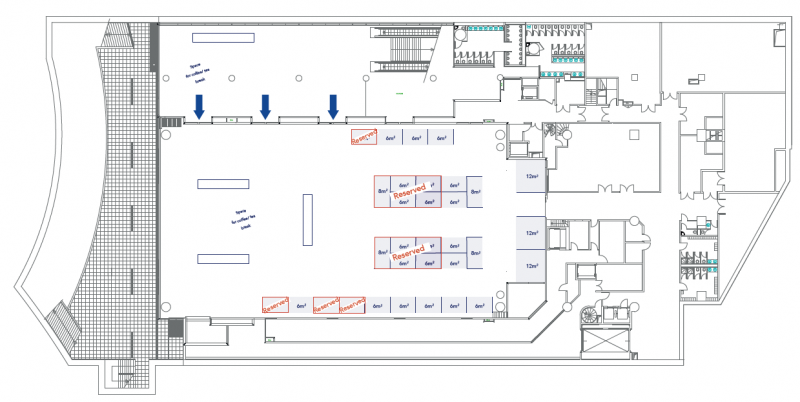 Concorde room with possible positioning of the exhibition booths
Exhibition space will be booked on a first-come, first-served basis.
Build-up scheduled Sunday, July 9, 10:00 – 14:00
Opening hours from Monday 10 till Thursday 13, 9:00 – 18:00
Opening hours on Friday, July 14, 9:00 – 13:30
Dismantling scheduled Friday, July 14, 13:30 – 18:00
A second exhibition space dedicated to demonstrators will be hosted in Palais des Sports. This space will operate on Monday 10, Tuesday 11, Wednesday 12 afternoons (13:00 – 18:00) and Friday 14 (9:30 – 16:00). It will combine industrial and academic demonstrators.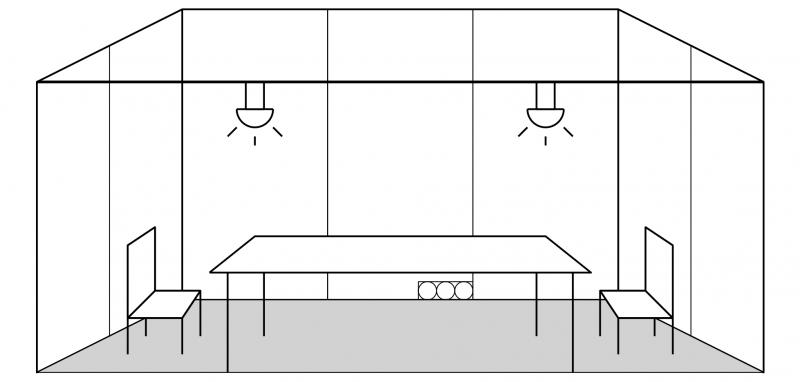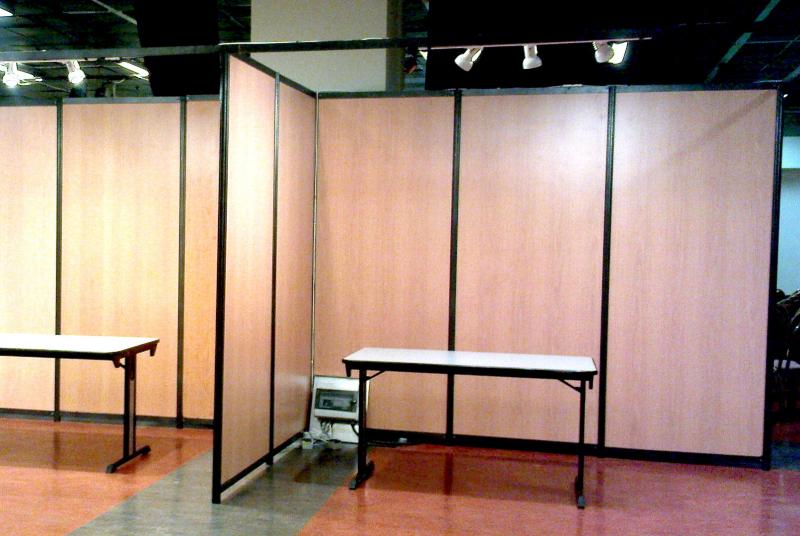 A standard 6m2 booth includes a table, two chairs, spot lights and an electricity plug. For any additional requirement, contact sponsorship@ifac2017.org.
Round Table Spaces
Round table sessions will take place in the 12:00 to 13:30 lunchtime slot. The proposed rooms are Cassiopée at level 1 with a capacity of 200 participants and Saint-Exupéry auditorium with a capacity of 500 attendees.
Catering
Successful catering at congress events is essential for a strong impression on attendees. Sponsors of congress events will have high recognition for their contribution to providing prestigious French food and drinks.
President's dinner. This special dinner for IFAC officials and VIP guests will be held on Saturday, July 8. A main sponsor will have its brand associated to this prestigious event.
Congress banquet. This dinner, opened to all congress participants, will take place on Thursday, July 13. It will be a festive event with good food and music. A main sponsor will have its brand associated to this convivial event.
Opening ceremony and cocktail. The congress opening ceremony will take place on Sunday, July 9 and will be followed by a cocktail at the congress center. A lead sponsor will have its brand associated to this welcoming event.
Closing ceremony and cocktail. The closing ceremony will be held on Friday, July 14. A farewell party at the congress center and Bastille Day fireworks at city center will follow. A lead sponsor will have its brand associated to this event.
Coffee/tea breaks. Every day from Monday to Friday at 9:30 and 15:30 the congress attendees will be offered hot drinks and snacks. A lead sponsor will have its brand associated to these essential for meeting and socializing breaks.
Lunches associated to round tables. Round table organizers have the possibility to offer lunches to attendees. These could be of lunch box type or buffet.
Evening invited party. Any company or organization interested in having a party during the world congress for some of their own guests are invited to contact the congress organization team.
Communication
Sponsors and exhibitors will be acknowledged in all World Congress communication material. The higher the sponsorship level, the larger the acknowledgement.
Web site: Logo slider on all web pages, logo and short description on the sponsorship page and permanent positioning in the headers for the main sponsors.
Congress handbooks: Logo and short description for main and lead sponsors in all congress handbooks (one general information handbook and one per day handbook with detailed program).
Banners: Special banners with sponsorship acknowledgement will be positioned in the main congress venue spaces. Special banners will be deployed to acknowledge main and lead sponsor support at the sponsored social events.
Twitter and newsletters: As soon as sponsorship is established the support will appear in IFAC 2017 newsletters and on the Twitter account. Main, lead and major sponsor news will be followed and commented on the social network.
Press release: The World Congress milestones will be reported to the media for regional and national coverage of the event with the help of the LAAS and CNRS communication services.