Lunches are not included in registration fees. But a wide range of offers is available close to the Congress Center.
Lunch at Marché Victor Hugo Village
Market places have an important part in the French art de vivre. Buying fresh meat, fish, fruits and vegetables at dedicated stands providing local tasteful products is the first step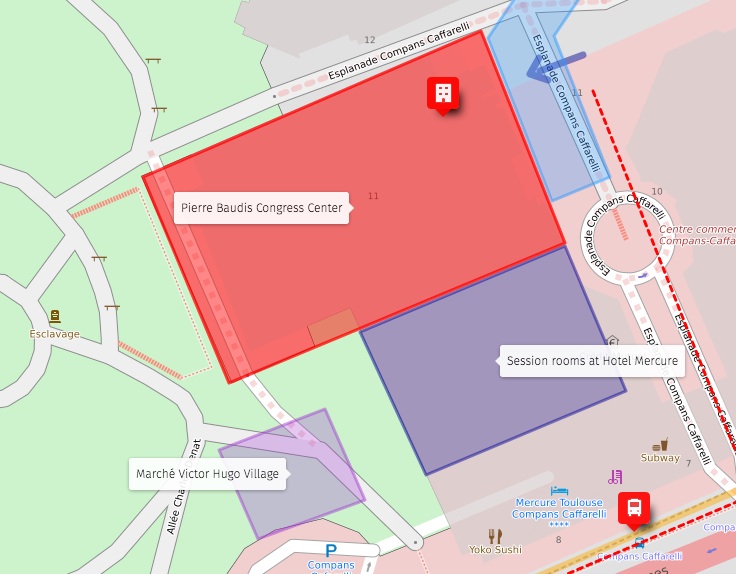 for excellent French cuisine. In Toulouse there are several such markets, open every morning (except on Mondays). The largest one is Marché Victor Hugo in the city center, close to the Capitole Square. It is even considered as one of the largest in France.
For the first time ever, specially for the IFAC World Congress, the Marché Victor Hugo has accepted to leave its usual quarters, and bring their excellent products, cooked and well prepared, to the delegates. This Marché Victor Hugo Village will take place next to the Congress venue, in the Compans Caffarelli Park. Attendees will be able to purchase products prepared with the help of the market bakeries, the poulterers, the fish merchants, the pork butchers, the beef butchers, the wine merchants, the cheese makers and the vegetable and fruit dealers. You will have fresh French bread, cakes and pastries; roasted chicken, duck and foie gras; oysters, shrimps and raw tuna salads; ham, saussisson and chorizo; local beer, wine and fresh fruit juices; the famous grilled Toulouse sausage and other grilled pieces of meat; fruits and vegetable; plates with Comté, Rocamadour, Roquefort and Cantal cheese.
The delegates have the opportunity to purchase these products and enjoy their meal in the Compans Caffarelli Park. Pease be so kind not to leave waist and garbage in the Park.
---
Lunch at Arsenal University Campus
3 April 2017 update: this offer is sold-out.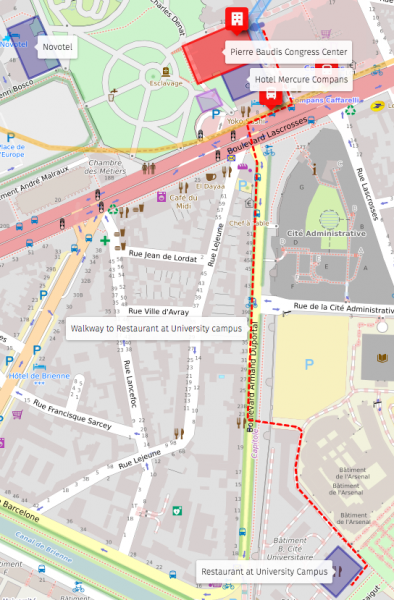 This self-service restaurant of the neighboring Toulouse Capitole University is located at less than ten minutes walking distance from the Congress center. The walkway to the Restaurant is displayed on the Congress venue map. Usually closed during the summer break, it opens for the IFAC World Congress attendees with a special lunch offer. Tickets can be purchased via the registration site. For logistics reasons, and because the number of lunches is limited, the offer is as follows:
Lunches for the 5 days of the World Congress at the price of 40€
Lunches are for Monday 10, Tuesday 11, Wednesday 12, Thursday 13 and Friday 14. No refund will be possible in case of unused tickets.
---
Lunch at Mercure Compans Hotel
The neighboring Mercure Compans Hotel, in which part of the congress sessions take place, has a pleasant restaurant. The delegates are suggested to book tables there to enjoy confortable lunches in air-conditioned conditions.
---
Sandwiches at the Congress Center
All lunch options mentioned above are outside the security check zone. It unfortunately implies going though the security procedure again when coming back to attend the Congress. In order to facilitate rapid snacks at the Congress venue, we have asked the Congress Center staff to provide sandwiches. These will be sold at the "Bar Armagnac" on level 0.5.
---
Other places where to eat in Toulouse
Someone told some day that there are over 1.000 places where to eat in Toulouse. Impossible to list and comment all of them. The list below is subjective. To know more about these suggestions, have a look at you favorite web advisor.
Compans-Caffarelli
The Congress Center is situated in an administrative quarter. You may find there fast simple food, classical brasserie restaurants, but also one of the most prestigious French Chef
Michel Saran - 21, boulevard Armand Duportal - Compans-Caffarelli - gastronomy
Want to try a Michelin starred restaurant?
L'Esquinade - 28 Rue de la Chaîne - Arnaud Bernard - restaurant
Sea food tapas.
Les Chalets
Not far from Compans Caffarelli is a discrete quarter, highly appreciated by the local population: Les Chalets. It is not a touristic place people live hare as if in a village.
La Badianne - 31 Rue de la Concorde - Les Chalets - restaurant
Salads, tapas, a glass of wine, and you are simply happy. Lunch only.
Bar de la Concorde - 17 rue de la Concorde - Les Chalets - bar
One of the oldest bars in Toulouse. You may also have lunch there.
Le Fanfaron - 24 rue Saint-Honest - Les Chalets - restaurant
Home made food, serve yourself and weight your plate for a simple and cheap lunch.
Le Père Peinard - 1 rue des Chalets - Les Chalets - bar
Alternative.
Le Rocher De La Vierge - 40 rue Merly - Les Chalets - restaurant
Simple classical French food at a reasonable price.
Les Gourmands de Saint-Sernin - 21 Place Saint-Sernin - Saint-Sernin - tea&food
To have a drink (tea, coffee, smoothie), homemade patisserie or lunch (salad, bagel, tart). Right in front of Saint-Sernin Basilica.
La pente douce - 6 rue de la Concorde - Les Chalets - gastronomy
Original fresh and prestigious cuisine.
Capitole
The Capitole Square is the central square in Toulouse. The main building called Capitole hosts the Town hall. On almost all other sides you may find brasserie restaurants. Leaving the square, the narrow streets offer a wide variety of simple and fast food restaurants with food inspired from all places around the world.
Flower's Café - 6 place Salengro - Capitole - food&tea
Nice place for a salad, cakes, or simply a cup of tea. Pleasant terrace on a quiet square. At al time of the day.
Le Bol Bu - 8 rue du May - Capitole - food&tea
Tea and French crèpes in an authentic place situated in one of the oldest and narrowest streets.
Le Bibent - 5 place du Capitole - Capitole - restaurant
Top brasserie restaurant in a magnificent venue. High quality food.
Les p'tits fayots - 8 rue de l'Esquile - Capitole - gastronomy
A young talented chef operates here. Original gastronomy.
El Caminito - 3 rue des Gestes - Capitole - restaurant
Best Empanadas Argentinas, cheap and friendly place.
Duck Me - 7 rue de Rémusat - Capitole - restaurant
Bored of beef burgers, try the duck burgers!
Made In A Marmite - 24 rue Gambetta - Capitole - restaurant
Cheap, simple and fast French style food.
L'Impro - 7 rue Gambetta - Capitole - bar
Large choice of draft beer and always good music (mainly jazz).
Saint-Pierre
This square is famous for its bars. Students would party here until late at night. But you may also enjoy the terraces for lunch or a drink during day time.
Le Bonheur est dans le pot - 17 place Saint-Pierre - Saint-Pierre - restaurant
Organic vegetarian food.
Saint Cyprien
Cross the Garonne river from Saint-Pierre and you get to Saint-Cyprien. This quarter is getting trendier every year, and yet it remains popular and simple.
L'Apicole - 9 rue du Pont Saint-Pierre - Saint-Cyprien - restaurant
Simple and good food, and wine.
Vasco le Gama - 1 place de l'Estrapade - Saint-Cyprien - bar
Beer, wine and tapas untill late at night.
Ô Boudu Pont - 1, rue de la République - Saint-Cyprien - bar
Bar at the end of Pont Neuf bridge, serves lunches and you may also by a picnic to be enjoyed on the Garonne river shores.
Daurade
The Daurade Square is probably the most pleasant place to enjoy the River Garonne. People picnic in the garden or go to one of the many bars and restaurants nearby.
La Roulotte - 40 bis rue Peyrolière - Daurade - restaurant
Small friendly restaurant with fresh home made food.
Les Beaux Arts - 1 quai de la Daurade - Daurade - restaurant
XIXth century Brasserie where to have seafood and more.
Le Dahu - 10 rue des Blanchers - Daurade - restaurant
Classical food for the Toulouse region, served in a friendly atmosphere.
Les Pêcheurs de Sable - Quai de la Daurade - Daurade - guinguette
Open air in the garden, drinks and salads, live music sometime.
Esquirol
On the Esquirol square itself you may not find interesting places where to eat. It is more for shopping. But as soon as you leave the square...
L'Empereur de Hué - 17 rue des Couteliers - Esquirol - gastronomy
Vietnamese cuisine at high standards.
N°5 Wine Bar - 5 rue de la Bourse - Esquirol - wine bar
Recently elected best wine bar in Europe. A choice of more than 300 wine bottles from which you may taste just a small glass.
L'ancienne Belgique - 16 rue de la Trinité - Esquirol - bar
The place to go to for a Belgian beer.
Le Genty Magre - 3 rue Genty Magre - Esquirol - restaurant
Prestigious restaurant with excellent food. Do not miss the deserts.
La Faim des Haricots - 2 bis rue du Puits Vert - Capitole - restaurant
Home made vegetarian food. Eat as much as you want.
Carmes
In this quarter the feeling is that all buildings host either a restaurant or a bar. You may almost pick at random, most of the places are good.
Chez Navarre - 49 grande rue Nazareth - Carmes - restaurant
Traditional French food in a popular atmosphere. Shared tables, good place to make friends.
Solides - 38 rue des Polinaires - Carmes - gastronomy
Not only high quality innovative gastronomy, but also a friendly atmosphere.
Chez Fifi - 17 rue Croix Baragnon - Carmes - gastronomy
Considered as one of the highest quality restaurants in Toulouse.
La Tantina de Burgos - 27 avenue de la Garonnette - Carmes - restaurant
For those that do not have time to go to Spain, try Spanish tapas the fiesta here.
Bar du Matin - 16 place des Carmes - Carmes - bar
Typical French bar were all sorts of people come to chat and have a drink.
Le Samlanazar - 15 rue Bouquières - Carmes - wine bar
Enjoy the fresh basement, the good wine, and eventually an exhibition, a seminar or a concert.
La Braisière - 42 rue Pharaon - Carmes - restaurant
Excellent wood grilled meat.
Monsieur Marius - 40 rue des Filatiers - Carmes - restaurant
Fresh nicelly prepared bistronomy.
Jean-Jaurès
Jean-Jaurès Square is where the two metro lines cross. It is a lively quarter with movie theaters and conventional large size restaurants. Close to it is also the Gabriel Peri street with many bars open late at night, as well as the Saint Georges square.
Les Sales Gosses - 7 rue de l'Industrie - Jean-Jaurès - restaurant
The scenery of a school class, reminds of childhood days.
Le J'Go - 16, place Victor Hugo - Jean-Jaurès - restaurant
A place where to eat meat, and lamb in particular.
La Binocle - 10, rue Alexandre Fourtanier - Saint Georges - restaurant
Excellent bistronomy. At lunch the starters and deserts are at 2€ each. Temptation to taste many.
François Verdier & Saint-Aubin
Criollo -

2 Place Saint-Etienne -

François Verdier - food&tea
For those who really love chocolate.
Chai Vincent - 38 rue d'Astorg - François Verdier - wine&food
They sell excellent wine, but you also have a seat and drink some with some food.
La Madeleine de Proust - 11 rue Riquet - Saint-Aubin - restaurant
Old style décor for a traditional French restaurant.
Chez Authier - 25 Place Dupuy - François Verdier - bar and restaurant
Typical and most beautiful French bar where you may also eat. And the food is very good.
Le bistrot de l'Etoile - 6 Rue de l'étoile - François Verdier - restaurant
Typical french bistrot with decoration from the 60ies, fresh food and grill.
Bois et Charbon - 64 rue de la Colombette - Saint Aubin - restaurant
Home-made French food and specialities.
Bar de la Lune - 22 rue Palaprat - Saint Aubin - bar
Beer and Wisky bar (no food).
Outside the City Center
Au Pois Gourmand - 3 rue Emile Heybraud - Arènes - gastronomy
It could be complicated to get there, but the high quality gastronomy and the country side like terrace worth it.
Le Pic Saint Loup - 7 rue Saint Léon - Saint-Michel - restaurant
Quality food and wine, and you may be seated in the garden, most pleasant in summer time.
Le Bol Rouge - 43, avenue des États-Unis - Minimes - restaurant
Fresh homemade cuisine with open-hearted people. Only for lunch.